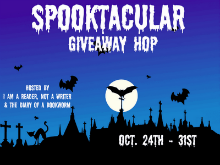 -This hop is hosted by I am a reader, Not a Writer
-This contest runs from October 24-October 31st.
-Open to residents of the US only.
-Fill out the Form and click submit.
-Following is NOT required for this giveaway but it's very much appreciated! So is sharing and tweeting about this giveaway. This encourages me to hold more giveaways in the future.
I will be giving away my ARC copy of Will Lavender's Dominance. I reviewed this novel in the past and as this is a spooky giveaway, I figured a novel about a madman murdering people is a perfect book to giveaway! So enter, share and come back the week of November 1st to see if you're the lucky winner!